Sunny In Rome Italy
Hello World, happy Tuesday. Please forgive my lateness. This post was suppose to be live last week Tuesday, but after coming back from Rome, I had so many things to catch up on. But like the saying goes..better late than never!
I was in Rome for few days the last week in May. We have all heard about Rome through history classes and books and movies, so it is impossible to go to Rome without a lot of pre-conceived notions about it; for me, encountering so much conflicting reality was a little jarring, to say the least.
Rome is one of the most remarkable cities in the world. From the ancient Colosseum to the Vatican, Rome deserves the millions of visitors that flock to her decadently marbled streets each year.
BEFORE TRAVELING TO ROME
You've heard the saying: "When in Rome, do what the Romans do". The people of Rome are generally quite welcoming and used to tourists. Below are few things to keep in mind or do before traveling to Rome. 
Italian immigration requires American visitors to present a valid passport upon entering the country. The passport must be valid for at least three months beyond the intended period of stay in Italy.
American tourists do not need a visa to visit Italy for less than 90 days; however, Americans may need to procure a visa if their stay will exceed 90 days or if the visit is for a purpose other than tourism, such as educational or religious reasons. 
Expect a lot of military officers and local enforcement presence with frighten weapons at the airport, train/metro station, and all local attractions. I was told few months ago, Rome received threats from ISIS which the government is clearly not taking lightly. 
8.5 hours flight from Washington Dulles Airport to Leonardo da Vinci–Fiumicino Airport
I bought Roma Pass. I highly recommend Roma pass. Don't waste your coins on single ticket transit passes. Instead, buy a 3, 7, or 30-day pass to use during your time visiting Rome if you plan to use public transport a lot. Most passes include buses, metro and tourist attractions so you can use any where you want, as much as you want. The 3 days pass includes 2 museums, unlimited Metro, discounts and reduced price ticketing for events, exhibitions and tourist service. Valid for 3 days and the price was €36

I took the train from the airport to Termini station which is basically the center of Rome. 
From Termini Station, I took the metro to my first Airbnb host.
What a pleasant surprise it was to come out the metro and my first view was of the Colosseo. Less than 5 minutes walk from the first apartment I stayed. 
My first host was an amazing painter with a beautiful home in the center of Rome. Staying at Susanna's gorgeous art inspired home was the perfect way to start my experience in Rome. Within walking distance to the most popular attraction in Rome.

View from the living room
It was time to explore the neighborhood
The Colosseum is the most inconic building in Rome. One of the wonders of the world. The Colosseum became known as the arena of death due to number of animals and people who die there in the name of entertainment.
You can skip the long line at the Colosseum with the Roma Pass. Do not fall for the many men and women outside the Colosseum asking you to buy tickets from them especially if you have the Roma Pass. Sadly, I was a victim. The only benefit was the fact that I had someone to give me more insight of the Colosseum. 
Roman gladiators were usually slaves, prisoners of war or condemned criminals. Most were men, but there were a few female gladiators. These combats were attended by the poor, the rich, and frequently the emperor himself. As gladiators fought, vicious cries and curses were heard from the audience around the Roman Colosseum. One contest after another was staged in the course of a single day. Should the ground become too soaked with blood, it was covered over with a fresh layer of sand and the performance went on. The gladiatorial games continued until Christianity progressively put an end to those parts of them which included the death of humans.
Standing here brought all the history I've learned about this place into prospective.
 Even though I had on flats, my feet was on fire. Needed to take a break from walking. 
 It was time to get out the Colosseum for another exploring
The Roman Forum was where religious and public life in ancient Rome took place. The Forum is, along with the Colosseum, the greatest sign of the splendour of the Roman Empire that can be seen today. The Forum today is a sprawling ruin of architectural fragments and intermittent archaeological excavations attracting 4.5 million sightseers yearly.
I was told Rome never been a city limited in water usage. By the first century A.D., thanks to the aqueducts, the city had 1,000 liters of water available per person, per day. Today, there are 500 liters available. Per family. Still, though, more than enough.
And lots of that water still freeflows out through the fontanelle (little fountains) placed around the city. (You might also hear these fountains called nasoni, after their nose-shaped spigots). The water's brought in from outside the city. It's safe. Fresh. Super-cold. So do as the Romans do: Save your €1.50 and refill your water bottle at the nasoni. There are 2,500 in the city, so you shouldn't have trouble finding them.
The struggle trying to get a picture alone at the top of the Roman Forum
 By the look of this photo, I gave up on getting a photo without photo-bombers 
I walked pass the Colosseum before going for dinner
This was the only decent food I ate at the Colosseum area. Avoid tourist menus as much as you can and get some proper food.
The next day, I had breakfast courtesy of my amazing host, Susanna.
 Even the laundry is photogenic 
You can't go to Italy, and not have GELATO. I think it's a crime to your mouth. 
I didn't expect my next airbnb to be so close to the Vatican. The host was very nice to serve juice and take this photo of me. 
 Vatican City is the headquarters of the Roman Catholic Church. Vatican City is the smallest country in the world.
Encircled by a 2-mile border with Italy, Vatican City is an independent city-state that covers just over 100 acres, making it one-eighth the size of New York's Central Park. Vatican City is governed as an absolute monarchy with the pope at its head. The Vatican mints its own euros, prints its own stamps, issues passports and license plates, operates media outlets and has its own flag and anthem. One government function it lacks: taxation. Museum admission fees, stamp and souvenir sales, and contributions generate the Vatican's revenue.
After hours of being inside the Vatican, it was time to climb more than 500 hundred stairs to see the entire Vatican with this amazing guy I met from Malaysia that resides in the states but currently on a one month Europe tour. 
At this point I was about to give up. Climbing these very narrow stairs were more difficult than climbing the Great Wall of China. 
What an amazing view…Totally worth the sweat!
Going down was a lot easier. 
St. Peter's Basilica
The Swiss Guard, recognizable by its armor and colorful Renaissance-era uniforms, has been protecting the pontiff since 1506. That's when Pope Julius II, following in the footsteps of many European courts of the time, hired one of the Swiss mercenary forces for his personal protection. The Swiss Guard's role in Vatican City is strictly to protect the safety of the pope. Although the world's smallest standing army appears to be strictly ceremonial, its soldiers are extensively trained and highly skilled marksmen. And, yes, the force is entirely comprised of Swiss citizens.
The next day, I decided to come explore the outside of the Vatican, before heading to Piazza Di Spagna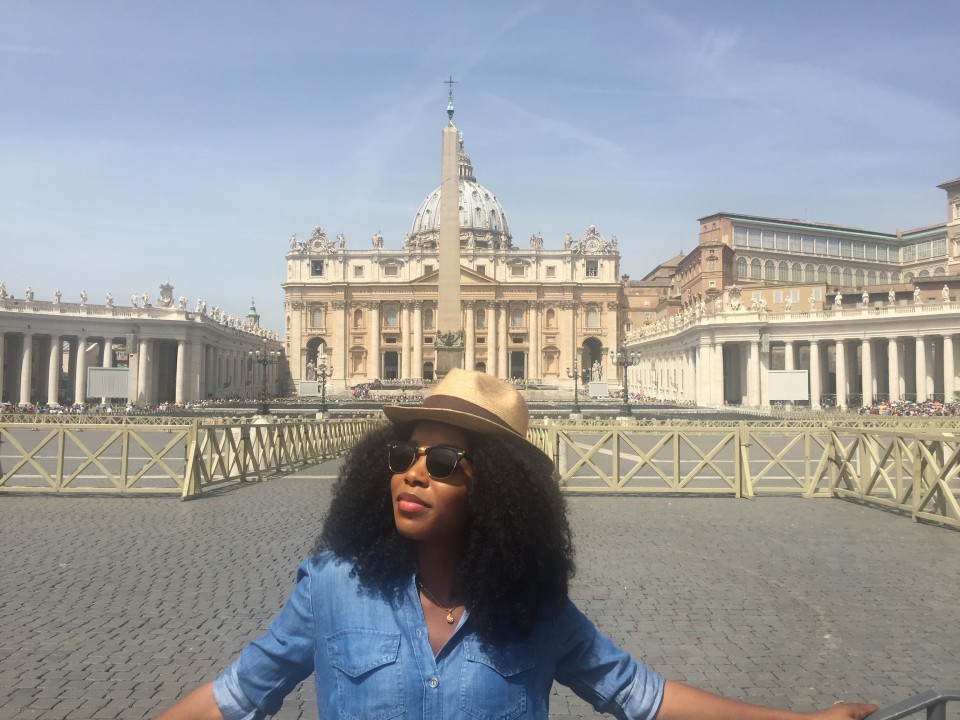 Piazza Di Spagna is a must for the travelers that loves to shop, especially the label lovers. Dior, Gucci, Prada, Valentino many other labels are here. 
The Spanish Steps currently under construction but still worth going. You can climb up through the smaller stairs on the side for amazing view of the area. 
 The main purpose of my last Airbnb was to get a local feel away from all the tourists and attraction. The host was an amazing movie producer. 
I learned so much history about Rome's roads while sipping some good coffee with my host
It was time to explore the neighborhood, while pretending to be a local
After pretending to be a local with a camera in hand, I headed out for my last exploring of Rome. 
I met up with Alfredo at the Spanish Steps to explore this area in depth. I must admit, I fell in love with how charming and knowledgeable he is about Rome. He speaks very good English and has University diploma in history. I wish I met him my very first day in Rome. With Alfredo, you don't just get the knowledge of the historical facts but you fell the energy and emotions of Rome. He explained every building we walked pass and gave personal encounters of each. Walking through the Piazza Navona and Pantheon, Trevi Fountain and the Spanish Steps, I can honestly say I breathe in the soul of Rome, and started feeling its heartbeat thanks to Alfredo. He does tours for all attractions in Rome. Contact him through  EdenWalks. or call and message  him directly at +39-3921078756
The Trevi Fountain is the largest fountain in the City of Rome and considered the most beautiful in the world!
 There is a saying if visitors throw a coin into the fountain, they are ensured a return to Rome. I threw few coins in the fountain because I can honestly say I am 1000 perfect coming back!
 The Roman Pantheon is the most preserved and influential building of ancient Rome. It is a Roman temple dedicated to all the gods of pagan Rome.
Then Alfredo turn me into a fake model. Lol
 I remember asking Alfredo after taking this last photo can I steal him to travel the world with me. He is very detail and loves photogrphy  He laughed and never answer my question which I interpreted as a polite no. He said he can't see living anywhere else.  
 Alfredo was trying to test my balancing skills which was a completely fail, I almost fell on my face. 
Alfredo took me to one of his friend's restaurant named Mamma Roma. I didn't have good experience in most of the restaurants near local attractions but the food here was an exception. It was insanely delicious
They also have another restaurant very close by with amazing food and beautiful interior called Pasquino Cafe
Contact Alfredo if interested in renting out this car while in Rome. 
 Being a poser!
This may be one of the riskiest things I did in Rome. While heading back to the apartment , my phone dies. I didn't remember the exact floor I was staying. I walked back outside, confused and scared since it was 2am. I met this guy, asked if he had a charger, he responded "not with me, but you can come back to my apartment to charge your phone". I was hesistant and declined. Then, I said to myself, it either I risk going with a complete stranger or stay outside all night since I have no idea how to get to the right apartment with a dead phone. We walked into his beautiful home, I was still scared, thinking of all the worst things he could do to me. He offered food and wine but I declined. It dawned on me that he is simply trying to help while I am being so negative. He talked about so many things while my phone is charging and he decided to show me all his music instruments. He is a musician and work in the IT field between Rome and Venice. Sometimes, taking risks can lead to something very rewarding. I now have a friend, Nicola in Rome that want to take me to Venice on my next trip to Italy. 
While at the airport, I ask the guy sitting down to take my picture which were all horrible. After several failed attempts, the lady with the luggages asked her husband to take the picture for me. She loves my pants, I told her I got it from Zara online. The initial photographer decided to not only photobombed my picture but also posed while doing it. Lol
This trip had a profound effect on me, and I am still assimilating it. I think it is always good to replace ignorant imagination with fact whenever possible, and this trip certainly did THAT. I hope this post inspires you all to visit Rome in the near future. 
Do not use my photos with permission